SH1 COMMUTER TIMES AND SAFETY IMPROVED Since the new layout has been in place, travel times have been one to two minutes faster in the peak weekday flow from Murphy Street to The Terrace Tunnel/off-ramp. That's a big saving over just a few hundred metres...
read more
INVITATION – Inaugural Conference of the Ratepayers & Residents Association of NZ Inc
Nelson – Saturday 10 & Sunday 11 November 2018
Kia ora to ratepayers and residents and to elected representatives in the Wellington Region
You and everyone you know is invited to participate. You need a break and there is no better place than Nelson to have one.
The purpose of this conference is to establish a national ratepayer organisation which will represent the interests of ratepayers in negotiations with central government and the various statutory and other bodies that make decisions that affect ratepayers.
Every ratepayer group in the country is encouraged to participate, and it would be excellent if groups that have a good working relationship with their local council were to participate, as well as those who are having difficulties. The objective is to form a body that takes a rational balanced view but which ensures that the voice of this country's ratepayers is heard and heeded by decision makers and policy makers at all levels.
The meeting will be over two days. There will be some guest speakers, and there will be breakout sessions where groups with particular interests or expertise will be encouraged to bring recommendations to the conference.
If you are interested please reply in the first instance to brucerogan2017@gmail.com. A specific email address and website will be established in the near future, and you will be advised of that. A very favourable rate has been negotiated with Ocean Lodge, and if you contact them they will find you accommodation at that same rate even if all their rooms are taken.
LINKS TO SUPPORTING DOCUMENTS
Representatives from the Thorndon Residents Association recently attended the Our City Tomorrow community workshop and below is the presentation from the workshop. All feedback from the workshop is currently being analysed by Council officers and TRA will keep the community informed of progress.
On 30 October 2017 the Embassy of the Philippines moved from its Chancery in Hobson St so that work on seismic strengthening of the building could commence.
This work may be a consequence of the Kaikoura quake, as we can see that the brick wall on the southern boundary toppled in the quake and is leaning on the Embassy. Just one of many brick walls that failed in this precinct of Thorndon.
Impact of Kaikoura earthquake for Wellington CBD apartment residents survey
Survey to investigate the impact of the November 2016 Kaikoura earthquake on apartment dwellers in Wellington – developed by Wellington City Council, and the Joint Centre for Disaster Research (Massey University and GNS Science), with input from the Earthquake Commission. This survey closes at 5pm Friday 20th October 2017.
The Wellington City Council are interested in knowing people's experiences of the Kaikoura earthquake. This includes the earthquake's impacts, people's need for evacuation and alternative accommodation arrangements, disruption to services, and preparedness. The results of this survey will be used to better understand some of the unique challenges apartment residents face following an emergency, and how best to plan and respond to any future events.
The survey is for apartment residents living in Oriental Bay, Mount Victoria, Mount Cook, Te Aro, Wellington Central, Pipitea and Thorndon.
At the end of the survey there will also be an opportunity to enter the draw for two 1-person Grab and Go Kits with a retail value of $85 each.
For further information about the study contact:
Julia Becker, 027 284 9478, j.becker@gns.cri.nz
Angela Rampton 021 227 8568, angela.rampton@wcc.govt.nz
Queens Park – A Forgotten Gem
There will be very few people who know much about Queens Park – the oldest of Thorndon's parks, developed in the 1890s from a bare area of Town Belt.
The Wellington City Council named this part of the Town Belt "Queens Park" to commemorate Queen Victoria's diamond Jubilee in 1897. The Queen would now not be amused at the park's state and the neglect that it has suffered over the past decades.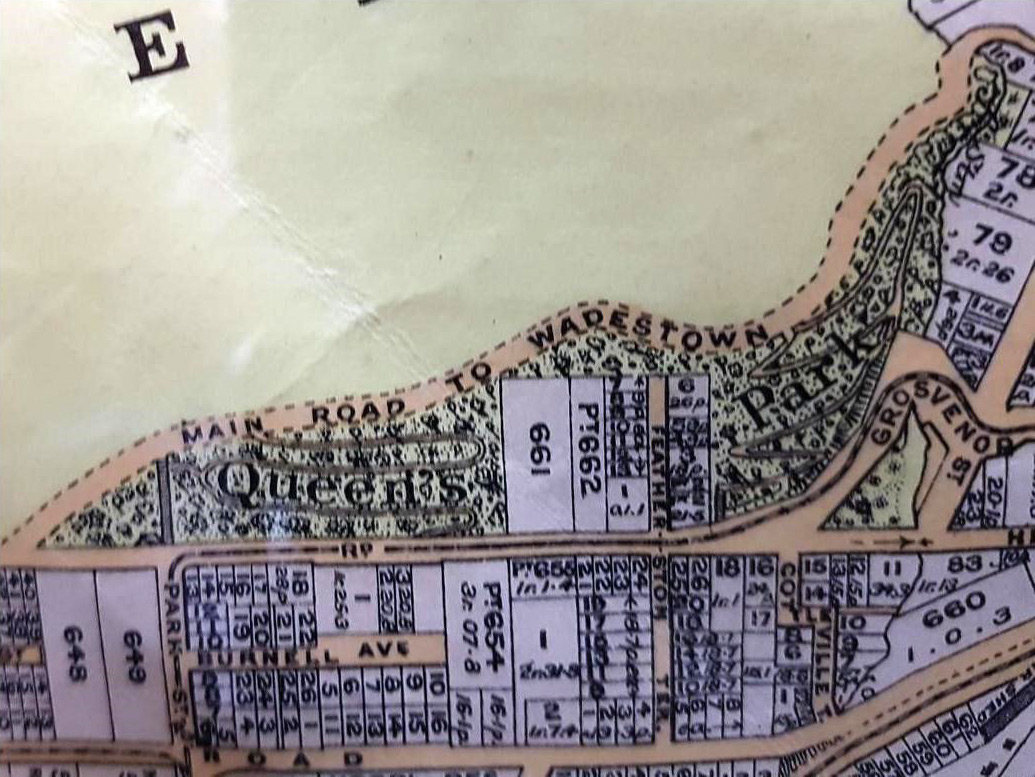 Peter Steel is seeking to halt the progressive decline and neglect of the Park, and is calling on TRA members to support his initiative to encourage the Council to restore Queens Park into the valuable community asset that it could be – something that we can use and enjoy.
Construction Site at Queen Margaret College
Maycroft Construction is beginning site preparation and construction of a new 3-storey student accommodation hostel located on Katherine Avenue. Our understanding is that this facility will accommodate about 40 boarders. Work is expected to continue until October 2017.